It's getting to be the most wonderful time of the year, well, depending on how wonderful you think winter is. Chestnuts will soon be roasting over open fires, wrapping paper will become harder to find than toilet paper during covid, and families will fly in to celebrate love with cheer. With the cold, it can be hard to find ways to get moving, let alone motivated to do so. So let's get into a few fun ways to stay active this snowy season.
Snowball Fights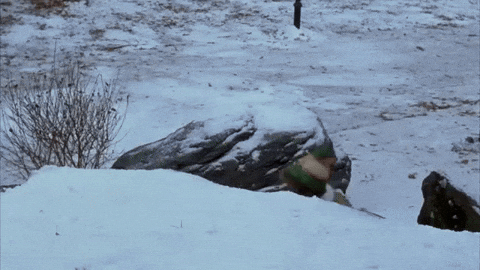 Ever had a vendetta you wanted to harmlessly act on? Or maybe just in the mood to see just how good your hand eye coordination is? Look no further than a snowball fight. What better way to teach kids survival instincts than hurling balls of compact snow at them? It's perfect for the holiday season when in-laws are in town and making it hard to stay home; release some stress with this fun outdoor activity. Maybe you even like the people you're playing with but still need a reason. How's burning up to 560 calories an hour dodging those incoming projectiles?  
Build a Snowman
You heard it here first, what better way to make use of the magic that is snow than giving Frosty a new lease on life. With skills picked up from your earlier snowball fight, use your hands and arms to build balls of compact snow and push the balls through the snow using your legs to get them to be the perfect size. Not convinced it's a full body workout yet? Just wait till you try to stack the globes you spent time perfecting. The lifting and placement will be enough to have your legs feeling the burn. Still not convinced? Frosty actually might help you burn up to 400 calories an hour! Once you're done, sit back, relax, and look at Frosty go.

Escape Room
So maybe outside isn't always ideal. When cracked knuckles and dry skin are the enemy, we understand. Winter presents the perfect opportunity to take advantage of indoor activities without fomo for the outdoors. A great way to test your sleuthing skills, escape rooms can help you bond and keep you out of the brain fog winter can trap us in. Whether crawling under desks or lifting books to uncover secret passageways, your body gets moving as you find yourself walking the length of each room multiple times looking for clues you might have overlooked before you're met with the sweet victory that is completing your mission. Better yet, you can burn up to 200 calories in the hour you've been escaping!  

Ice Skating

At the center of every holiday themed romcom or Hallmark movie is an all too predictable ice skating scene. One is a pro, one can't balance to save their lives and they both tumble down before engaging in eye contact that makes everyone at home equally uncomfortable. While we cannot promise you'll have this love at first fall moment, the other added benefits include burning a minimum of 387 calories an hour, fun cardio, and getting to enjoy a warm cider or hot cocoa after. 
 So there you have it. Just because the temperature is dropping, doesn't mean our moods must too. It's time to stay happy and healthy with friends and family. Whether building the biggest snowman on the block or stumbling on skates, stay refreshed and strong with Slate this holiday season.
Cheers and happy holidays,
The Slate Milk Squad

Written by Cassandra Catesson